November 2012
김홍주, 이기봉, 김소라 작가 플라토 그룹전 참여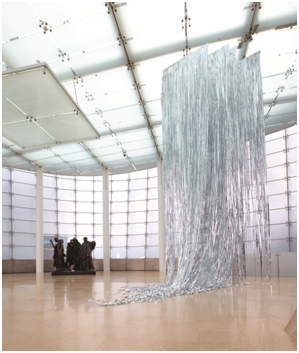 Sora Kim, Landscape: A diffusing movement gradually distancing from a single point. Sound installation in collaboration with Jang Younggyu, dimensions variable. Installation view at PLATEAU, Samsung Museum of Art.
전시제목 : (불)가능한 풍경 (Im)Possible Landscape
참여작가 : 김홍주, 이기봉, 김소라, 강홍구, 공성훈, 김나영+그레고리 마스, 김동연, 김범, 문범, 오용석, 이불, 이세현, 정서영
전시기간 : 2012년 11월 8일 – 2013년 2월 3일
전시기관 : 삼성미술관 플라토 Samsung Museum of Art, PLATEAU
웹사이트 :
www.plateau.com
국제갤러리의 김홍주, 이기봉, 김소라작가는 삼성미술관 플라토에서 열리는 『(불)가능한 풍경』展에 참여한다. 이 전시는 우리에게 익숙한 '풍경'이라는 모티브를 통해 현대미술의 상상력으로 도달할 수 있는 현실인식의 불가능성 혹은 새로운 가능성의 세계를 제시하고자 기획되었다. 전시에 참여하는 작가들은 '풍경에 대한 사유'라는 단 하나의 지점만을 공유할 뿐, 재현에서부터 개념의 세계에 이르기까지 각자만의 방식으로 여러 갈래로 확장하는 현대미술의 다양한 유동성을 보여준다.
일견 한 폭의 서예작업을 연상시키는 김홍주작가의 <무제>는 사실 봄철 농사를 위해 갈아엎은 밭고랑을 그린 풍경이다. 김홍주는 회화에 있어서의 '재현'의 문제에 천착하면서 대상을 고립시키고 조망하는 시선의 결과로 풍경은 마치 읽을 수 있는 텍스트로 변경되는 동시에 배설물 같은 구체적인 풍경을 관객의 면전에 대면시켜 재현의 허구성을 드러낸다.
이기봉작가의 는 안개로 가득 찬 눈 덮인 공간에서 인간 지성의 상징체인 책이 분해되고 불타오르는 상황을 구성한 설치작품이다. 작가는 어떤 심연 속으로 미끄러져 들어갈 운명의 미약한 존재들, 즉 우리의 지식과 욕망이 잠시 머무르는 장소를 풍경으로 파악하여 보여준다.
김소라작가는 '풍경'을 담아 내는 행위를 '사냥'으로 인식하여 사냥의 행위로 발생하는 소리를 채집하여 눈으로 볼 수는 없지만 믹스되고 충돌하는 사운드를 통해 구성한 유목적인 풍경을 보여 준다. <풍경: 한 지점으로부터 지속적으로 멀어지는 확산운동>에서 작가는 소리라는 비물질적 재료를 이용함으로써 관객의 상상력을 확장시키고 일상과 자연 풍경을 자유롭게 소요하는 체험을 하도록 이끈다.
Kim Hong Joo, Kibong Rhee and Sora Kim will be participating in (IM)POSSIBLE LANDSCAPE at Plateau, Samsung Museum of Art in Seoul. Featuring the work of fourteen artists, the exhibition spans multiple generations, exploring the evolution of contemporary art through the theme of landscape.
The artists represent different generations and artistic styles, and their works also demonstrate the multiple directions in contemporary art branching from the common interest in the 'contemplation of landscape.' The infinite possibilities of the theme proposed by the artists in this exhibition will not only provide a more approachable understanding of contemporary art but reinterpretation of the traditional genre will also provide a meaningful opportunity for broadening its horizon.
Contents from PLATEAU, Samsung Museum of Art